First Regional Crowdfunding Campaign with ONE GOAL- Nutrition for Every Child
FringeBacker Tuesday, 3 December 2013

FringeBacker is proud to announce its strategic partnership with World Vision's and Asian Football Confederation's One Goal campaign, and to be its exclusive crowdfunding platform. The campaign leverages on the power of and the passion for football in the region, and will seek to tackle the poor nutritional practices and access that have been holding back Asia and Asian football.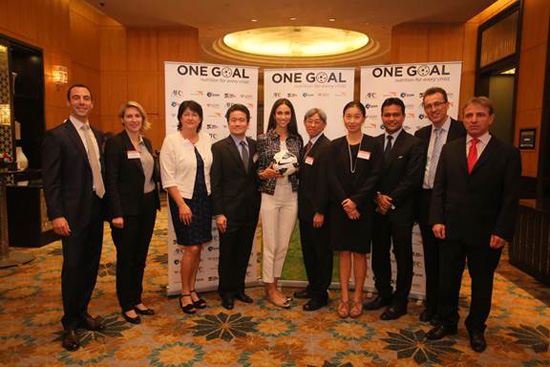 Group picture of all the One Goal Partners and Ambassador Deborah Henry
From L-R : Eric Drosin (Communications Director, Royal DSM), Emma Highwood [Head of Community Football, Football Federation of Australia (FFA)], Regina Moench-Pfanner (Dr.) [Director of Singapore Office Global Alliance for Improved Nutrition (GAIN)], Gerald Ng (Regional Finance Director, DSM Nutritional Products Asia Pacific), Deborah Henry (Onegoal.asia Ambassador), Liew Tong Ngan (CEO, World Vision Malaysia), Maryann Hwee (Executive Director, Fringebacker), Stuart Rmalingam[Director of Marketing & Social Responsibility, Asian Football Confederation (AFC)], Stefan Germann (Dr.) (Executive Director, onegoal.asia), and Urs Zanitti [CEO, Asian Football Development Project (AFDP)].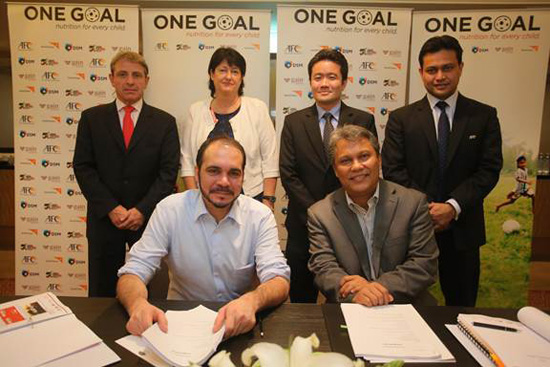 Signing Ceremony between AFC and WVI
From L –R (sitting) : One Goal Co-Chairmans - HRH Prince Ali Bin Al Hussein (Vice President, FIFA – ASIA) & Trihadi Saptoadi (Regional Leader-South Asia & Pacific Region, World Vision International)