Creativity in Filmmaking -- The Top 10 Greatest Independent Films of All Time
ANDREW LIN Thursday, 20 September 2012
We all know what's our favourite film of all time -- but what about the Top 10 greatest independent films of all time? Which are the bravest, most innovative, and most creative films -- the "ultimate indie lineup" of the best non-studio works ever made?
Empire, Britain's leading authority on the film industry, ranked these experimental films which are made without big budgets and stars, and took into account "the quality of the film, the circumstances behind its production, the achievement of the filmmakers despite monetary and logistical constraints and its influence on subsequent projects".
First, where do we draw the line? -- what is an independent film? It usually refers a film that is made outside the established film studios, and more likely than not by a little-known director and producer on a shoe-string budget. It would probably have unconventional plots and characters, and perhaps attract only a limited audience. While some can be breakthrough films for the directors and actors involved, they may have limited access to cinema screens that reach mass audiences. However, they often embody groundbreaking topics that appeal to relatively intellectual viewers, and may not have been produced primarily for commercial reasons.
What is not surprising (or what may perhaps be surprising to some) is that the Number One greatest independent film of all time bears an undeniable tribute to the Hong Kong filmmaking industry. Empire's list of "The 50 Greatest Independent Films" boasts a plethora of now-household names. So here we go, as the annual celebration of international independent films, the Hong Kong Independent Film Festival 2013 is just three months away, here is the top 10 from Empire's list, FringeBacker's tribute to the Top 10 Greatest Independent Films of all time:
10. Mean Streets (1973). Directed by Martin Scorsese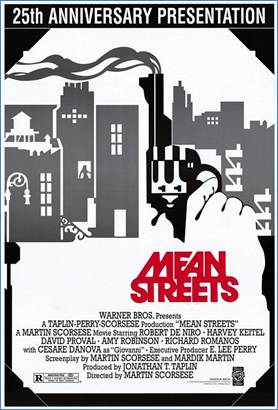 For only his third feature film, Martin Scorsese returned to his tough neighbourhood roots in Little Italy, New York. While Francis Ford Coppola upgraded Hollywood gangster films into epics about the Mafia and capitalism -- The Godfather and The Godfather Part II -- Scorsese chose to forgo his first love (the priesthood) and reflected upon the other end of the spectrum, the detailed intricacies of everyday life on the streets and reliving his personal memories. Using documentary-style camera movement, unusual lighting and angles, and a pop-infused soundtrack, Scorsese directed an intimate film of even of the most trivial daily incidents and violence that is commonplace in Little Italy in the lives of Charlie and Johnny Boy -- encounters that Scorsese and screenwriter Mardik Martin lived through when they grew up in Little Italy on the edges of Chinatown. Mean Streets opened at the New York Film Festival to critical acclaim, had commercial success in New York, and is probably Scorsese's most powerful and most personal film. Although audiences elsewhere did not show the same level of enthusiasm, the film set the scene for Scorsese's long partnership with Robert De Niro (Johnny Boy) in huge productions to come -- Taxi Driver, Raging Bull, The King of Comedy, and Goodfellas.
9. Sideways (2004). Directed by Alexander Payne
Alexander Payne stunned critics with this arthouse spectacle -- a seemingly simple story of two friends, Paul Giamatti and Thomas Haden Church. with very different personalities who end up with a weekend in wine country. Considered one of the best character study films ever made, it encompasses comedic and depressing scenes, as well a happy ending. If this had been produced by a major studio, Paul Giamatti and Thomas Haden Church would not have been cast in more than bit parts, instead of as leads.
8. The Usual Suspects (1995). Directed by Bryan Singer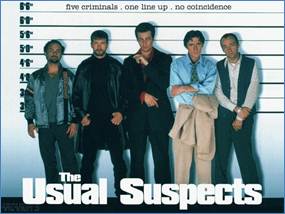 The ending makes this whole film, one which launched the careers of both Kevin Spacey and Bryan Singer. Flashbacks and misdirections are used by the director, leading the audience and playing with perceptions and leading the story an outcome, before the shock of the ending that changes all that has gone before. A filmmaking masterpiece, much of which is credited to its surprising ending.
7. sex, lies and videotape (1989). Directed by Steven Soderbergh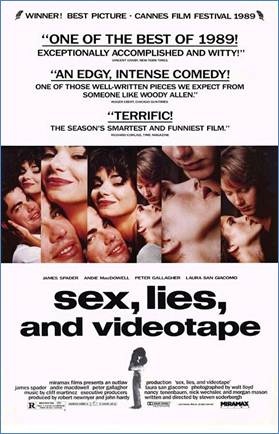 Made two years before Tarantino arrived, the story of sex, lies and videotape is now a film classic, having been written by writer-director Steven Soderbergh, then aged 29, in eight days while on a trip to Los Angeles. The film, Soderbegh's debut film, was made on a low budget of US$1.8 million, and won the Palme d'or at Cannes, as well as the best actor for then teen idol James Spader, more recently of Boston Legal. The film marked the first time lead for Andie MacDowell. It's never boring, and the use of first-person camera drew similarities with what subsequently would be known as internet voyeurism. sex, lies and videotape generated so much noise that it probably single-handedly saved the troubled Sundance Film Festival.
6. Night of the Living Dead (1968). Directed by George Romero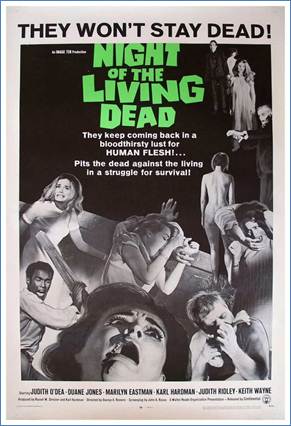 Made for US$100,000, Night of the Living Dead was initially dismissed but after it was re-released one year later in 1968, it attracted favourable attention for touching upon Vietnam-era anxiety. It grossed US$12 million over the next 10 years, inspiring a series of apocalyptic films like The Texas Chainsaw Massacre, and was the poster film for horror. It was considered the reason for the revival of zombie films. Although Romero's skills were somewhat lacking and the shoestring budget did not help, the true horror of a zombie takeover was brought home to the audience.
5. Monty Python's Life of Brian (1979). Directed by Terry Jones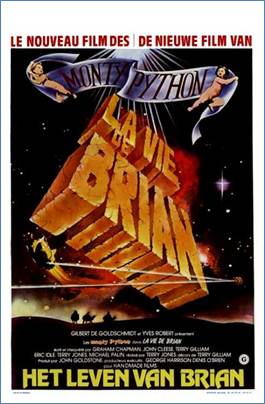 Nothing is sacred in this film, an amazing satire on religion, and a hugely funny film, with an appearance by Beatle George Harrison. Probably the funniest film ever made - with the whole Monty Python crew -- John Cleese, Terry Gilliam, Eric Idle, Terry Jones, and Michael Palin.
4. Clerks (1994). Directed by Kevin Smith
Filmed with a budget of only US$27,000, Clerks was a film that Kevin Smith had to borrow money to make. The film was taken up by Miramax, who saw raw vitality in its dialogue, spirit and humour. Clerks connected easily with disenchanted youths and ordinary workers. Kevin Smith did not need to borrow money again for future films.
3. The Terminator (1984). Directed by James Cameron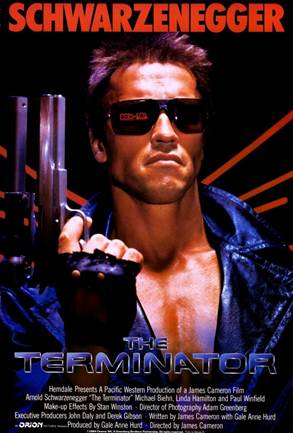 "I'll be baaaack" -- Schwarzenegger. Need we say more? Co-writer/director James Cameron made such a reputation for himself that he would never look back, and went on to make Titanic in 1997. Cameron solidified Arnold Schwarzenegger as a global star, although it was at that time an untried director leading an relatively unknown lead actor, and on a low budget.
2. Donnie Darko (2001). Directed by Richard Kelly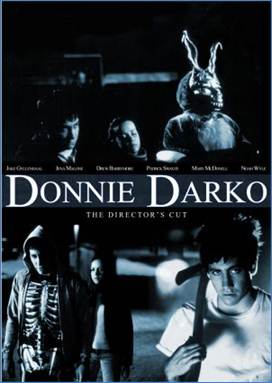 Young 27-year-old writer/director Richard Kelly almost had to release his debut on cable television, having refused to accept co-operation with major studios. The film went to become a cult hit, and placed Jake Gyllenhaal on the route to much bigger things. The film reinvented the teen film genre for the 21st century, and could not have hurt Drew Barrymore, Patrick Swayze and others.
1. Reservoir Dogs (1992). Directed by Quentin Tarantino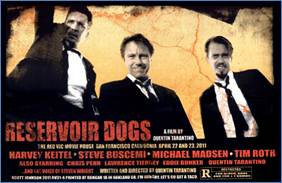 Undoubtedly, Reservoir Dogs launched Quentin Tarantino overnight from an unknown and unproduced screenwriter and part-time actor into probably the one most influential new filmmaker of the decade. The script was written part-time in two weeks by Tarantino. It was not a huge commercial success although it was critically acclaimed. It incorporates many themes that have now become hallmarks of Tarantino films -- violent crime, pop culture, profuse profanity, and a nonlinear storyline that jumps all over. The tribute to Hong Kong films is shown through significant elements that were inspired by Ringo Lam's 1987 film City on Fire, featuring Chow Yun-fat. Chow was included by Tarantino in the dedication credits.
Reservoir Dogs' effect on indie films has been unmatched -- Empire concludes that: "If it wasn't for Dogs, Hong Kong action cinema would still be a lot more marginal than it is today". And film expert Damon Wise, writing in The Observer, credits Hong Kong director John Woo: "Through Woo, cinemagoers began to understand the genealogy of Harvey Keitel's two-handed gunplay in Reservoir Dogs (a film believed to have been based on City on Fire by Woo's Hong Kong compadre Ringo Lam)." Whether you like the acting or not, or the characters' colour names (a la The Taking of Pelham One Two Three), whether you like not seeing the heist or not, whether you like Hong Kong style elements or not -- as Empire suggests, "Love or hate it, Reservoir Dogs is greatest independent movie ever made."
There is no fantasy marketing or big budget for independent films -- what we see is what we get. It's filmmaking at its most creative. Expectations are therefore high for the upcoming celebration of independent filmmaking at the Hong Kong Independent Film Festival 2013. What we can be sure about is this -- the creativity and imagination of some of these filmmakers will undoubtedly end up taking your breath away.