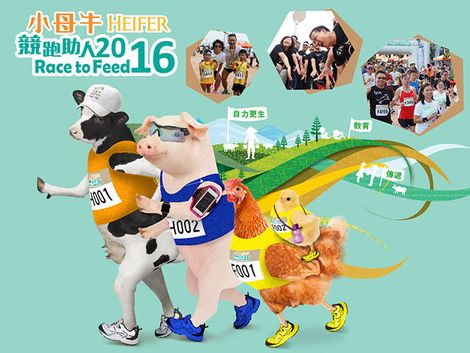 Thanks for enrolling in Race to Feed. Now, you can also raise extra donations to support our poverty alleviation work in Mainland China. Set up your fundraising page and share it with friends and family on social media platforms (e.g. Facebook, Instagram, etc.) Together, you and your loved ones can help more needy families get out of poverty!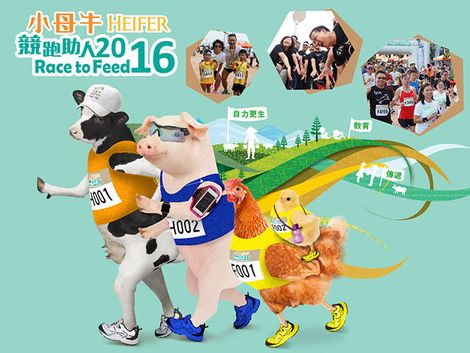 Event Introduction
Heifer Hong Kong's annual fundraising event "Race to Feed" will kick off in 2016 with a brand new Chinese name. It aims to engage the whole community to run for a good cause.
This year, the race will be held on October 23 and take place again along the Pak Shek Kok Promenade with the picturesque view of the Tolo Harbour. Participants can join the "Corporate and Organization 1K x 5 Relay Run"; "Individual 10K Run"; or "3K Family Fun Run". With the positive feedback from last year's Corporate Realy Run, Heifer has launched the "Small and Medium-sized Enterprise (SME) Team" this year and renamed the "Non-Profit Organization/School" category to "Non-Profit, Educational & Healthcare Organisations" category, encouraging more companies and the service sectors to join and build team spirit. With this year's theme, "Heifer Superpower", participants not only can challenge themselves physically, but also learn about the life-changing power of animals and spend a meaningful Sunday morning with family and friends!
Brief History of Heifer's Race to Feed
Since its launch in 2006, "Race to Feed" has been developed from a corporate fundraising event to a public engagement event in 2013. It has attracted over 5,000 participants and raised over HK$43 million to lift thousands of struggling families in rural China out of poverty and become self-reliant.
Established in 1944 in the U.S., Heifer International is a nonprofit organization dedicated to ending world hunger and poverty by providing animals and training to help impoverished families around the globe become self-reliant.
Heifer International- Hong Kong was founded in 2000. As a partner of Heifer International, Heifer International- Hong Kong has been supporting Heifer's program in China. Through Heifer's hallmark practice of "Passing on the Gift", recipient rural communities agree to share the offspring of their gift animals, along with skills and knowledge learnt from Heifer, with another community. Over 118,000 families have been assisted with over 5.6 million animals being distributed so far.