Hong Kong Network for the Promotion of Inclusive Society
The Fearless Dragon Skirmish is up and coming! Are you ready?
The condition of the ground, the distance completed, heart rates, pacing…… none of these are seen on your way.
Every single stride is made possible by the guidance of a guide runner. You need to see using your heart.
The HKNPIS has invited various supporters and celebrity runners of the Fearless Dragon Charity Run to join the Blindfold 100 Challenge on 25 March. The runners who have accepted the challenge include:
Steve Lo, Hong Kong long distance runner, who made the record of completing the six world renowned marathons
Andes Leung, CEO & co-founder of RunOurCity
So So Cheng, runner-writer & guide runner Kitty
Stephanie Kwan (Auntie Shrimp), famous long-distance runner +
Lam Wai Pong, Chairman of the HKNPIS
Kate Cheung
Jeff Wong & Danny Chu
Roger Yim
Jeffrey Kam
Stephanie Lau & Phyllis Pang
Running biji
They will run blindfolded to experience how it feels for a visually impaired person to go on a run, and they are committed to achieve the goal together - completing 100 km blindfolded on the harbour front in Central!
The endeavor needs your support! For every HK$500, the celebrity runners will run blindfolded for 1 km.
In view of raising more funds, Steve Lo is so committed that he is prepared to run as far as he can blindfolded. He just needs your PUSH! (from the 21st km onward, the donation amount for each km is HK$800, and HK$1,000 from the 31st km onward).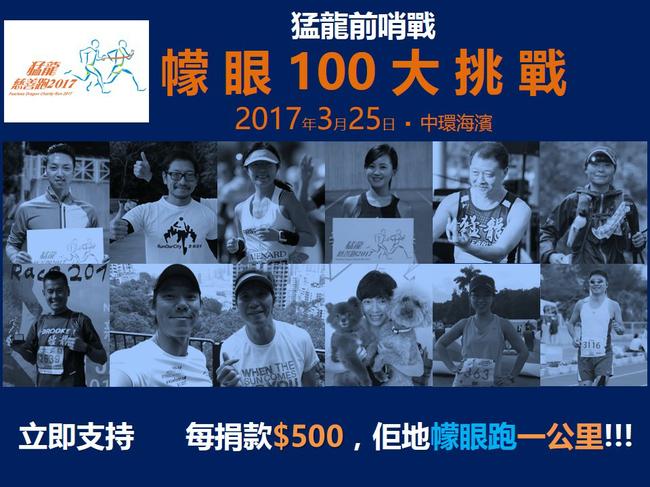 Blindfold 100 Challenge
Date: 25 March 2017, Saturday
Time: Start at 9 A.M.
Route: Tamar Park ---Central Pier No. 10 ( one way – 1km)
Come SUPPORT & CHEER!!!

Fundraiser
Lin Chun On & Cheung Suk Yi Idy
Contribute any amount
We welcome any pledge amount. Thank you for supporting the project without any rewards.
2 Donors