About Mandy CheuNg's Fundraiser
Since the launch of the charity programme in 2011, Over 230,000 food packs have been distributed to elderly in need. In order to help the elderly in need continuously, we hope to get your support. The estimated budget to offer approximately 53,000 food packs in 2018/19 is HKD1,500,000.
Change a Life for $200
What you spend for a dinner is enough for an elderly to have free meals for one month.
Many elderlies in Hong Kong are facing a lot of difficult in their daily living. They might have difficulties due to their health issue; problems with families and friends; and even going shopping and meeting friends are challenges to them.

Please kindly support "Food Pack With Love" Charity Programme 2018 by donating HKD$200 to the "Haven of Hope Christian Service" (HOHCS). Your generous support will be able to support one month of fresh food to an elderly. You can also join our volunteer team to distribute the food pack to the needy.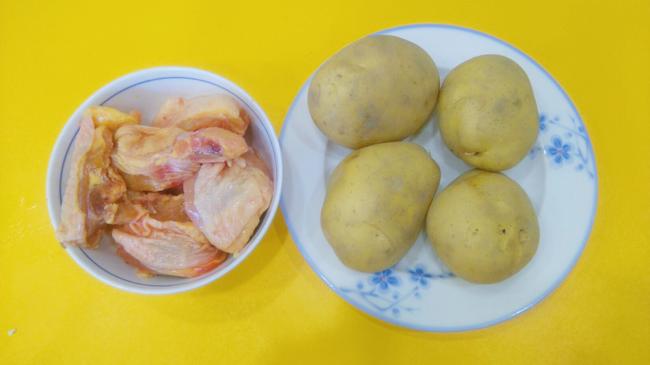 ---
One Food Pack one Warmhearted Story
The Story of Double-Aging:

When Ms Wu (Wu) came to pick up the food pack at HOHCS District Elderly Community Service – Kin Ming Centre, She looked anxious. We talked to her and found that she was worried about her mother, Ms Yeung (Yeung) who was at home alone. Our social worker suggested bringing her mother to the Centre. Later, Wu returned with Yeung in a wheelchair. Yeung was cheerful and smiling during the stay. We saw Wu relaxed and experience had eased her mind.

Wu (68-year old) and Yeung (93-year old), have only each other for the past ten years. They took care of each other. In the past, Wu had to carry her mother in a wheelchair to the wet market as she was worried leaving her mother alone in the house. While for Yeung, she forbade her daughter to buy meat. Even if her daughter bought it, she would refuse to eat it as Yeung was conscious about the cost of meat. Wu and Yeung always argued because of this. Wu was concerned about the nutritional intake of her mom. After joining "Food Pack With Love" Charity Programme, Yeung's appetite has greatly improved. She is healthier and happier. Their relationship is more harmonious now. Wu laughed and said, "Look at her (Yeung)! She is so beautiful now. I am not as beautiful as she is!"

---
The Story of Freedom:

Mr Leung is a polite and sociable gentleman. He lives alone. He loves to share his hobbies and stories with others. He has joined "Food Pack With Love" Charity Programme for several years. When he saw tomatoes and pork chops in the food pack, he told the social worker excitedly, "These are enough for two meals!" Then, he started to create recipe in his mind and said, "Oh! I have eggs at home. What about scrambled eggs and tomatoes…"

82-year old Mr Leung's left eye has impaired due to an accident when he has young. He could not seek compensation from the person who had hurt his eye. In recent years, his health deteriorates and he was suffering from gout. He has joint pain and having difficulty to
maneuver in the wet market. Regardless of his pain, he still needs to go for shopping grocery once in a while as he is living alone. Fortunately out programme "Food Pack With Love" could allow him safely buy fresh food home. He appreciates the programme which allows his freedom and a life he desires.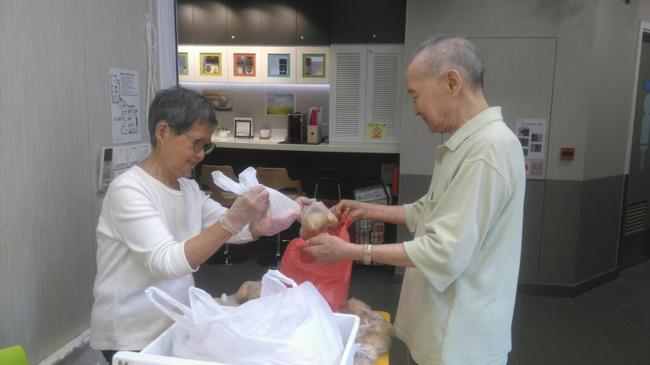 ---
Care and Respect for Life
Is it a good exercise for elderly with wet market shopping?
It is risky for some elderlies with mobility problem to go shopping at the slippery wet market. Through our "Food Pack With Love" programme, freshly packaged food is distributed to the elderlies and needy at our 6 community health development centres at Tseung Kwan O, Kwan Tong, etc. 3 times per week, we also delivered fresh food pack to homes by our volunteers and home delivery teams. Apart from food distribution, our community health development centre and district elderly community service centre has become a social grounds for the elderlies and needy.

Why don't we just give the elderlies HKD$200 per month?
Do you know that even under severe financial pressure, some of the elderlies would never ask for help and receive cash? They would rather safe up; making sacrifices with their daily livings or collect rubbish, cardboards on the street to earn a living. To them, being able to be respected and maintain their dignity is far more important than being able to survive.

Can my donation really change a life?
"Food Pack With Love" could help the elderlies and needy to gain confidence and be able to feed worthwhile. Being able to cook a meal with the fresh ingredients and share with their neighbors enhance their social life and make them feel important. After joining the programme, many elderlies and needy became cheerful and positive. They are more positive with their lives and families.
---
Significance and Goal of the "Food Pack With Love" Charity Programme
"Food Pack With Love" Charity Programme goes beyond a fundraising activity. The programme is not only aim to solve elderlies and needy's financial problem, but to help them gain confidence and enjoyment in life. The programme is vivid demonstration of care and respect. The respect makes an impact in people's life.
Please donate HKD$200 to support an elderly and needy for a month or join "Food Pack With Love" volunteer team to distribute food packs to the elderly and needy at the centres. Help us to continuous our mission to respect life!

Contribute any amount
Thank you for your donations.
1 Donor