Heifer HK 20K Animal Virtual Run
Event Introduction and Objectives
To welcome the Year of the Cow and make it memorable, our "Heifer Four" — HeiHei Heifer, Cici Piggy, Dr. Sau the Goat and Smarty Chick – are challenging everyone to complete 20K in the "Animal Virtual Run", a fun event for Heifer Hong Kong's 20th anniversary. Participants can choose to run, walk or hike anywhere, anytime at their convenience and upload their record through mobile devices or sport apps. More, become a Heifer fundraiser and raise extra donation and you may be awarded with premium souvenirs or even win fundraising awards.
You can also raise extra donations to support our poverty alleviation work in Mainland China. Set up your fundraising page and share it with friends and family on social media platforms (e.g. Facebook, Instagram, etc.) Together, you and your loved ones can help more needy families get out of poverty. Fund raised will be allocated to the Weicheng Haliha Poverty Alleviation Project in Hebei Province, China to help families who have slipped back into poverty to break out of the vicious cycle again.
Event Information
Organizer

Heifer Hong Kong Ltd

Event Enrollment Period

02/02/2021– 12/03/2021

Eligibility

Open to All

Location

No limitation, anywhere

Requirements

1. Participants can choose to run, walk or hike to challenge 20K or more (accumulated result)

2. Participants must submit supporting photos or videos to the challenge record form in order to complete the race.

Event Page

Enrollment Page

https://www.heiferhk.org/zh-hant/20kvirtualrun-online-enrollment/

Virtual Run Record Form

http://bit.ly/virtualrunrecord
Deadline for submission: 20/3/2021

Use of Donation

Fund raised will be allocated to the Weicheng Haliha Poverty Alleviation Project in Hebei Province

Enquiry

Email: [email protected]
Phone :2246 3466 (Ms Chu)

Steps for Enrollment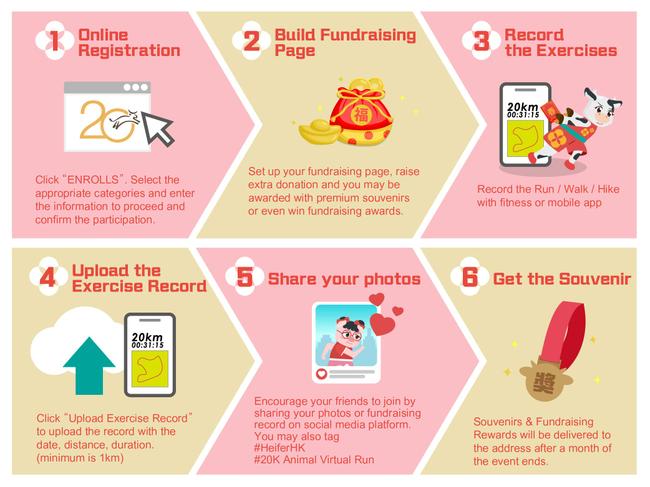 Souvenir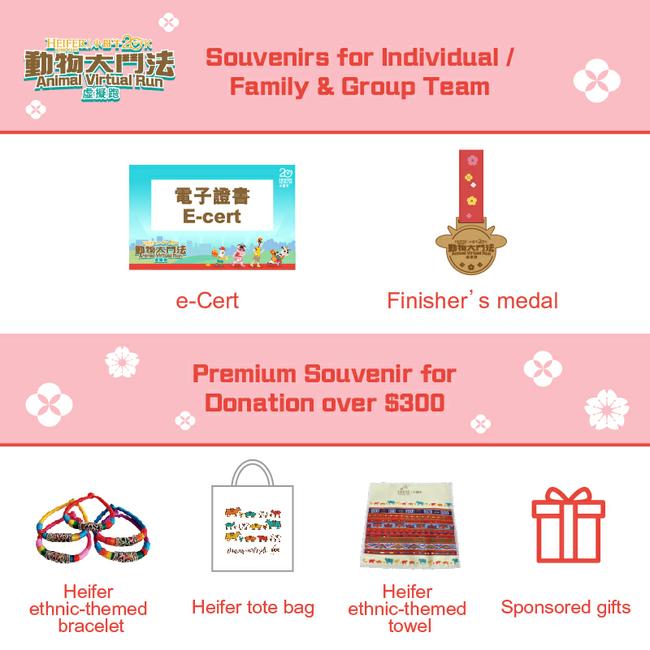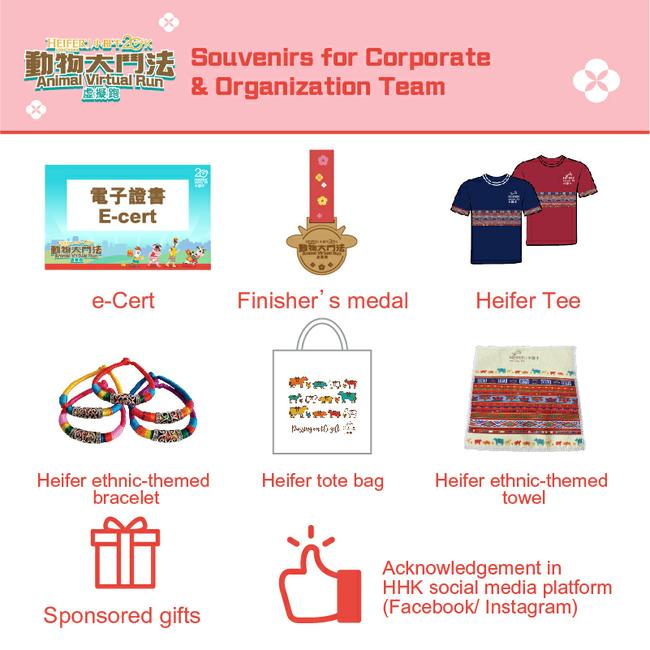 Event and Fundraising Awards


About Heifer Hong Kong
Founded in 2000, Heifer Hong Kong is committed to alleviating poverty and meeting the needs of rural communities in Mainland China by helping farm families achieve a sustainable livelihood through animal husbandry and growing high-value crops in an eco-friendly manner.
Through multi-party cooperation, Heifer Hong Kong facilitates the development of rural cooperatives, thereby lifting smallholder farmers out of poverty and achieving integrated sustainable development in the community.
Recipient families promise to "Pass on the Gift" of livestock or the money equivalent, knowledge and skills learned to help other families become better off, setting off a multiplier effect that benefits many more families.
Until now, Heifer has implemented and funded 96 poverty alleviation projects in rural China, lifting over 310,500 impoverished farmers out of poverty.

Project in Hebei Province

55-Year-old Gao Yali's family lives in Taizishui Village of Haliha Township in Weichang, Hebei Province. It was not easy for the couple to raise their two girls. After the daughters wedded, their financial burden was relieved. With an annual income of around 20,000 yuan, the family was just average in the village.
As Gao was enjoying her partially retired life as a grandmother, her then three-year-old grandson was diagnosed with congenital hydrocephalus, a genetic illness affecting the brain. Despite her elder daughter spending all her savings and even running into a debt of over 100,000 yuan, it failed to change his fate of permanent mental impairment.
It was not until 2017, after the birth of their younger grandchild, when the family experienced joy again. In the same year, the family became a Heifer Hong Kong project recipient and Gao and her elder daughter planned to raise cattle together to give their family a better life.
Unfortunately, as they were about to receive the gift cows, her elder daughter and son-in-law were killed in a car accident. This heartbreaking event not only took Gao's older daughter from her, but also made her ten and one-year-old grandsons orphans.