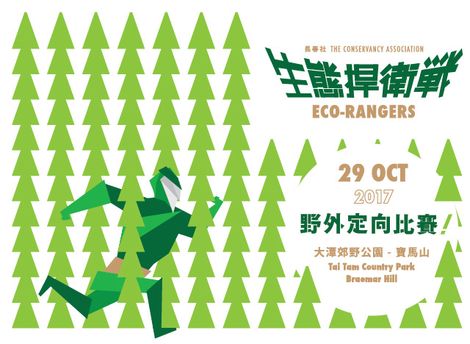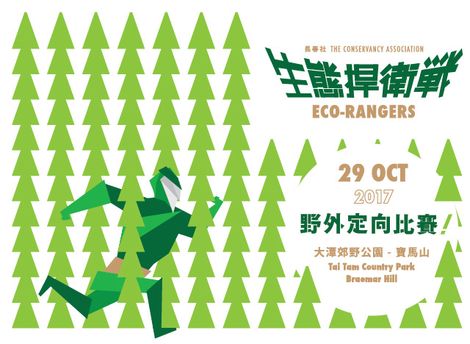 Event Details
While most Hong Kong people are busy with work every day, they do not realize that the surrounding environment has been gradually threatened by "Environmental Monsters"! Do you want to see our Old & Valuable Trees (OVTs), crystal clear streams and fresh air slowly disappears?
The Big Boss "Plastic Trasher" is going to destroy the country parks together with other "Environmental Monsters". We need you to become one of our Eco-Rangers to defend the precious ecological resources of Hong Kong by wiping out the "Bases of Plastic Trasher"!
Defend our environment NOW!
Date:
Sunday, 29 October 2017
Venue:
Braemar Hill, Tai Tam Country Park
Map Format:
International Standard Orienteering Map in scale 1:10000 and 5m contour interval (1:10000, VI 5m)
Punching and Timing:
Chinahealth Electronic Punching and Timing System
(Will be provided by the organizer)
Departure Time:
10:00-12:00 (exact time to be arranged by categories)
Time Limit:
2 hours (Score Orienteering Event)
Categories:
Novice, Individual(Male/Female), Dual(Male/Female/Mixed), Trio(Mixed), Family Team, Corporate Team
Enrolment Fee and Donation:
Click here
Enrollment Deadline:
Friday, 6 October 2017
(Limited quota; first come first served)


Remarks
If you failed to reach the min. donation fee by the date, you will NOT be eligible to participate and the donation(s) gathered will not be refunded.
The Conservancy Association reserves the right to approve or reject any registration request and to remove any fundraising page with inappropriate content without prior notice.

Rules of Orienteering
"Plastic Trasher" has been polluting our country parks with garbage and threatening the local ecological environment. Each Eco-Ranger (individual/group) will utilize compasses and orienteering maps to hunt down the "Plastic Trasher" while cleaning up our countryside within a 2 hour limit.
Scoring Method:
Points will be awarded against time and strategies as an orienteering competition
Gather wastes from a designated number of "Plastic Trasher" control points (each team is only allowed to gather ONE piece of trash on a 1st-come-1st-served basis) and recycle them via recycling bins established at the event centre to earn bonus points
The team who earns the highest score within the given time limit wins. Teams that finish outside the given time limit will have their score deducted accordingly. Should there be a tie with more than one team having the same score, the team with the lesser time wins.