AIDS Walk 2018 by The Society for AIDS Care
US$21,167
Total Fundraised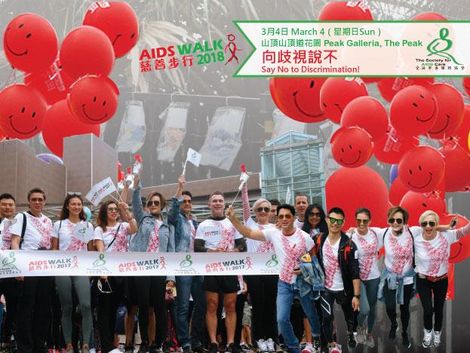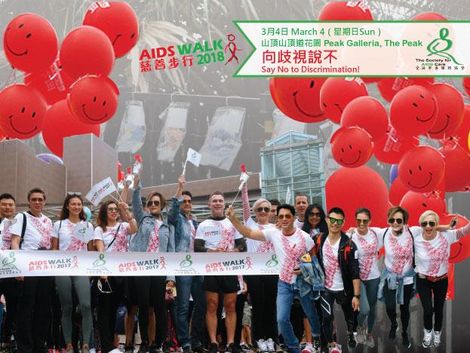 Event Date: March 4, 2018 (Sunday)
Venue: Peak Road Garden, The Peak
Theme: Say No to Discrimination!
Activities: 11am - Kick-off Ceremony, 11:45am – 12:45pm – Walk
Walk Routing: Harlech Road to Lugard Road on The Peak
Walk Duration: Approximately 1 hour

Story:
The Society for AIDS Care organized the first AIDS Walk at The Peak in 2002. This fun-filled family event raises funds to help children, adults and the elderly suffering from HIV/AIDS – a condition which affects thousands of people in Hong Kong.
We would very much appreciate your participation in this walk whether it is donating to the campaign, or joining us on this meaningful event.
Mission:
Raise funds to provide direct care services to children, adults and the elderly suffering from HIV/AIDS in Hong Kong
HK$2,000 supports 12 home visits by HIV care nurses
HK$1,000 supports 6 Women Phone-in and Free HIV testing Services
HK$500 supports 9 therapy group sessions at SAC Centre
Contact Us:
Tel: (852) 2559 2006
Fax: (852)2521 7668
Email: [email protected]
Website: www.aidscare.com.hk
The Society for AIDS Care Limited

Established in Nov 1994, The Society for AIDS Care (SAC) is a non-profit making charitable organization. It is the first NGO in Asia providing high quality patient care services to children, adults and elderly people living with HIV/AIDS (PLHIV) and their care givers. Our professional service team consists of nurses, social workers, counselors and physiotherapists. We provide both outreach services and center-based services on care and prevention of HIV/AIDS, including drug supervision, therapeutic counseling and physiotherapy. We are committed to provide professional care services to PLHIV to strengthen their self-care ability, build up their self-confidence and vision of positive living, so as to facilitate full community reintegration. At our patient center, we provide a non-judgmental environment in which all patients under care will not be jeopardized because of gender, age, race and sexual orientation. Over the last decades, we have been very successful in integrating and empowering patients through our therapeutic groups. Our active inclusions of LGBT in mainstream care setting services have been effective in engaging wider participation mix in all patients' groups. Moreover, SAC is also the only organization in Hong Kong that looks after HIV+ children, provides mother-to-child transmission prevention program, women hotline with free HIV testing and a 24 hour emergency hotline for all patients. Hot meals and food are provided for the needed.

Charity Registration No. 91/4400