The Hong Kong Pride Parade
A courageous step towards equality in Hong Kong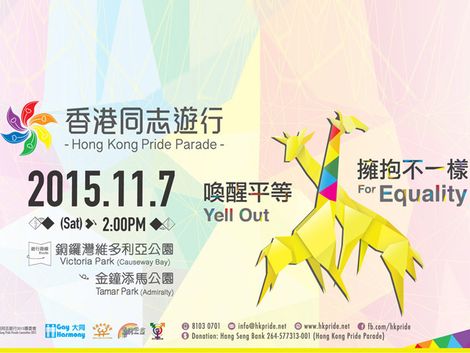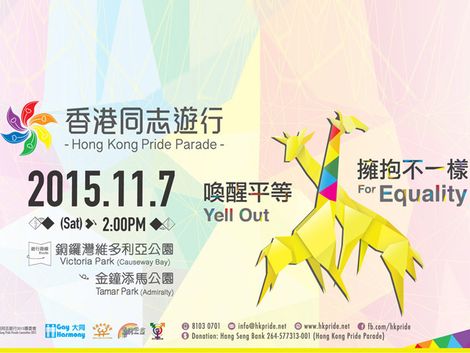 Information about the Hong Kong Pride Parade
With anti-discrimination as the leading principle, the Hong Kong Pride Parade advocates for equal rights through displaying the different facets of the LGBT community, and to promote public awareness for respect of diversity. A lively procession is the best form of public education in Hong Kong. As a non-profit organization, we create an open platform for communication, allowing LGBT communities to present themselves and call for diversity through the Pride Parade.
Details
Date: 7 November, 2015 (Saturday)
Gathering time: 2pm
Venue: Victoria Park (close to Causeway Bay)
Parade route: Victoria Park (Soccer Pitch 1) -> Hennessy Road (Westbound) -> Tamar Park, Admiralty
Theme of Hong Kong Pride Parade 2015
Yell Out For Equality
We do not need to look the same to be born equal. Whenever you look at the strange, unique few, you may feel uncomfortable at the sight of them. Where do these feelings come from? Probably it's just because they are different from you.
We hope that this year's Hong Kong Pride Parade can enlighten you, so that you can embrace those who are different from you and see that they are far from frightening. What actually bring harm to the society are: discrimination, prejudice, hatred and thoughts of excluding difference. Our society is composed of tens of thousands of individuals – all different from one another. The Harvard Business Review puts forward the idea of inclusivity of the LGBT community at the workplace. In 96.8% of the largest Fortunes 50 companies, anti-discrimination policies have been enacted, under the philosophy that individual difference drives social progress.
Homosexuals are different from those who are not: some wear differently, walk differently, love differently. They, nevertheless, hope that Hong Kong can be an equal and inclusive society as written on the "Universal Declaration of Human Rights". All human beings are born free and equal. They should enjoy equal rights to employment, education, provision of goods, facilities or services, and social participation.
The Hong Kong Pride Parade 2015 Visual Theme Giraffe
When people say the Cantonese idiom "Waiting till our necks become long", we can most probably think of a giraffe, with an extraordinarily long neck. Using the giraffe as our mascot this year represents that LGBTs have been waiting and fighting for over 20 years to eliminate discrimination.
There are two yellow giraffe in our theme photo, in which one of them has rainbow colors on its neck representing the LGBT community. The two giraffe tells is that even if they have different colors, they can still embrace and accept each other. The Hong Kong Pride Parade hopes to make use of the giraffes this year to raise people's awareness on the importance of EQUALITY.