About Isidoro's Fundraiser
I target to raise HK$784 for UNHCR : "2 BILLION KILOMETRES TO SAFETY" for refugee children.
I have joined the "2 Billion Kilometres to Safety" crowdfunding campaign and will raise fund for those people forced to flee violence and persecution undertake long, dangerous and difficult journeys and make extraordinary efforts just to protect their families.​
I run a minimum of 10 mins every day and usually around 5km each day. Your donations would be a strong motivation and measure of my efforts towards a mission I am truly passionate about in my personal and professional life.​​

Your donation will provide shelters to accommodate refugee families.

Please donate now to protect these vulnerable people.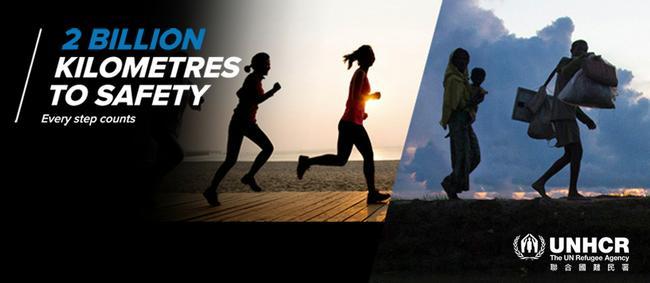 Refugees fled from their homes and travelled 2 billion kilometres every year to reach the nearest safety. More than half of them are children. In 2017, an estimation 173,800 unaccompanied and separated refugee children have no choice but lose their parents to violence or become separated from them and endure long journeys on their own.
They face many risks while and are vulnerable to abuse, violence, neglect, exploitation, trafficking or military recruitment. Their support networks are weakened and their education may be disrupted.
Today, UNHCR invites you to take 3 simple steps to give hopes to these unaccompanied refugee children:
Join "2 Billion Kilometres to Safety" global movement by challenging to accumulate 2 billion kilometres together to show our solidarity to refugees
Set up your crowdfunding page to support our works to protect refugee children. We are hoping to raise HK$200,000 by end of December to provide ready-to-use Therapeutic Food for 4,000 malnourished refugee children at the critical moment when they reach UNHCR as their first touching point of safety.
Appeal your friends and relatives' donation support by sharing them your crowdfunding page. Influence them with your good effort!
The largest number of unaccompanied and separated children in one country was reported in Ethiopia. Most of them came from South Sudan. Eva is one of them.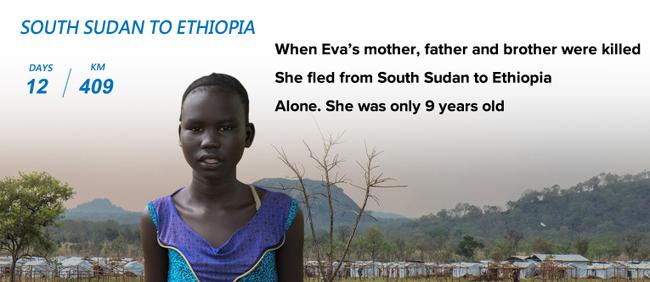 When Eva reaches UNHCR's transit centre, Eva has received shelter, food, water, sanitary materials, access to medical care and nutritional support.
UNHCR, together with our partner organizations, are helping to restore their futures through family tracing and reunification services and is working to rebuild their lives through psychosocial support and education services, provision of material support and livelihood activities, ensuring they are safe where they live, learn and play. We also appoint guardians and foster families who can offer care and guidance. Monitoring activities on the borders are being executed to address serious protection risks.
Amid the tragedy and sadness she has endured, Eva and her friends in refugee camp remain extremely resilient.
"I need to serve my people. When I see them suffering, I can help them." Eva said. Her aspiration is to be a doctor.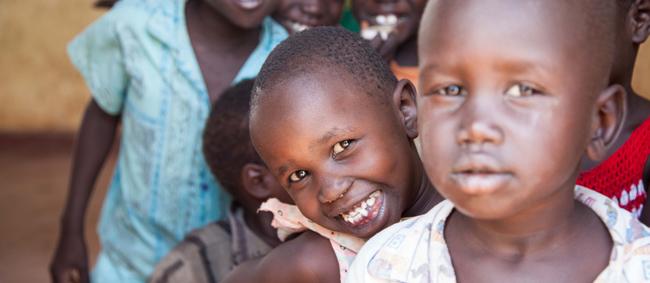 However, due to the mass displacement of unaccompanied and separated children, child protection efforts are becoming extremely strained and resource increasingly scarce. Please support today by the 3 simple steps. With your support, we can protect refugee children, so more of children's lives like Eva's can be restored.
Thank you and let's stride our #StepWithRefugees!
About UNHCR
The Office of the United Nations High Commissioner for Refugees (UNHCR) was established on 14 December 1950 by the United Nations General Assembly. The agency is mandated to lead and coordinate international action to protect refugees and resolve refugee issues. It strives to ensure that everyone has the right to seek asylum and find safe refuge in another state, with the option to voluntarily return home when conditions are conducive for return, integrate locally or resettle to a third country. UNHCR has twice won the Nobel Peace Prize, in 1954 for its ground-breaking work in helping the refugees of Europe, and in 1981 for its worldwide assistance to refugees.

Contribute any amount
Thank you for your donations.
0 Donors