About Fish's Fundraiser
Thank you for your support! Donation raised will be allocated to Heifer HK's poverty alleviation projects in rural China, helping struggling families become self-reliant by providing them with livestock and training. The impact of your donation will be multiplied as recipients "pass on the gift" of their livestock's offspring to help other families. Don't underestimate your contribution!
Thanks for enrolling in Race to Feed. Now, you can also raise extra donations to support our poverty alleviation work in Mainland China. Set up your fundraising page and share it with friends and family on social media platforms (e.g. Facebook, Instagram, etc.) Together, you and your loved ones can help more needy families get out of poverty.
EVENT INTRODUCTION
Since 2006, Heifer Hong Kong's event "Race to Feed" has raised over HK$47 million to help thousands of impoverished farmers in rural China become self-reliant. Over the years, it has attracted over 8,000 participants. Other than the existing "1K x 5 Relay" , "Individual 10K Run" and "Family 3K Fun Run", newly added this year is the "Corporate/Organization 10K Group Run" which caters to the increasing interest in long-distance running. Together with this year's event characters, the "Heifer Special Agent", participants will perform mystery tasks and accomplish the mission of delivering life-changing power to impoverished rural families in Mainland China! Donations raised will be allocated to poverty alleviation projects in China.
ABOUT HEIFER HONG KONG
Established in 2000, Heifer Hong Kong in Mainland China become self-reliant by providing livestock, animal husbandry training and community development training. Through Heifer's unique "Passing on the Gift" practice, families are required to pass on the offspring of their livestock, as well as their knowledge and skills to other families in need. This spirit of helping people help themselves benefits the entire community. Heifer Hong Kong also organizes various fundraising programs and promotional activities to engage corporations and citizens to make a contribution in rural poverty alleviation. Until now, Heifer has ilifted over 132,000 families out of poverty and distributed 5.7 million of animals.
Fundraising Prizes
1 night weekend package - double bedroom with breakfast & Dinner Set for two including Tai O Cultural Tour.
Royal Pacific Hotel(Café on the Park)-Lunch Buffet Vouchers
Round Trip Flight ticket to Taipei for Two
To compete for Fundraising Award, please submit the donation on or before 02/11/2018.
【Special Fundraising Task - Personalized Race Bib Name】
Heifer Special Agent Headquarters assign a new fundraising task to all the new agents(runners)!
Upon reaching a designated extra donation amount or above on or before 12 October 2018, participants will be rewarded with a personalized race bib on a first-come-first-serve basis.
#Personalized Race Bib Name (limited to 10 English alphabets)
3K team and 10K individual extra donation reach HKD$1000 or above
(3K team quota: 50 teams, 10K individual quota: 50 persons)
The First ten teams and ten individuals reaching HKD$1500 or above will have additional incentive - Butao Ramen Coupon
(3K team quota: 10 team- 2 coupons/each team, 10K individual quota: 10 persons- 1 coupon/each person)
1️⃣️. Login to Heifer fundraising page: http://bit.ly/Race2018ExtraDonation
2️⃣️ Register as the fundraiser
3️⃣️ Fill in the personal information and donation or fundraising amount
4️⃣️. Fill in the personalized name for the race bib (examples: Race To Feed)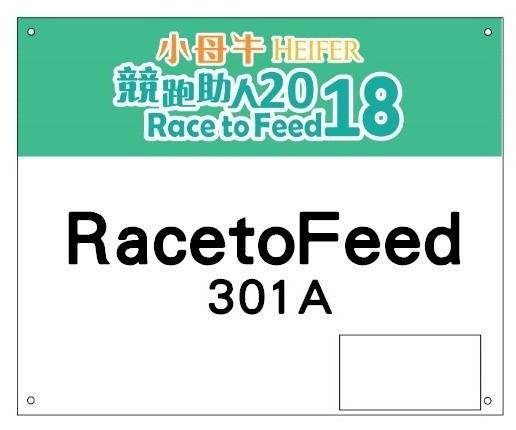 Personalized Race Bib Name donation deadline: 12-10-2018 (11:59pm)
Heifer Hong Kong reserves the right to edit the above terms and conditions without prior notice and the right of final decision of the event.
Contribute any amount
Thank you for your donations.
10 Donors