About Kelvin Suen's Fundraiser
I target to raise HK$5,000 for "Food Pack with Love" Charity Programme 2017.
Please support this programme !!!
ABOUT HAVEN OF HOPE CHRISTIAN SERVICE (HOHCS)
In the early 1950s, witnessing the desperate plight of the refugees in Tiu Keng Leng, Sister Annie Skau, the founder of HOHCS helped to untie the knots in their life by means of medical assistance. Not merely did Sister Annie Skau care about their health, she endeavored to meet their psychological, social and spiritual needs. Nowadays, in the spirit of "Respecting Life‧Impacting Life", HOHCS has developed into a charitable organization offering health care, elderly, rehabilitation services and evangelistic work.
INTRODUCTION OF FOOD PACK WITH LOVE CHARITY PROGRAMME
According to the Statistics of Census and Statistics Department in 2015, there are 1.12 million elderly in Hong Kong, while the number of elderly under poverty is as high as 300 thousands, which is 4.2% of population in Hong Kong. "Food pack with love" charity programme launched by Haven of Hope Christian Service ("Haven of Hope ") provides fresh food to elderly aged 65 or above and with financial difficulties. Top priority will be given to those who are not receiving Comprehensive Social Security Assistance (CSSA) from the government and those who are currently not having any Integrated Home Care Services support.
Haven of Hope Christian Service (HOHCS) launched the "Food pack with love" charity programme in 2011. Instead of setting up a food bank to distribute canned food, like what many charitable organizations were and are doing, we give out fresh and raw foods to the poor and needy elderly. Fresh foods, such as meat, vegetables, tofu, etc. are distributed as they are healthier and can help elders and the disadvantaged to maintain a balanced and nutritious diet. By offering fresh foods to the needy elders to prepare dishes they like, they can establish healthy eating habits. Thus, their chance of getting sick can be lowered. By giving out fresh foods, elderly service users can utilize their knowledge and creativity to design the menu of the day and cook to share with their family, friends and neigbourhood. This can help uplift their self-esteem and find their value and dignity. More importantly, they can re-connect with the community. This programme is a lot more than "food". It is about "love", "sharing", "satisfaction" and "empowerment".
Social workers or relevant professional staffs of HOHCS will first conduct assessment upon receiving the application from elderly. Qualified elders will come to HOHCS's service centre two to three times a week to collect the food pack. Currently, there are six distribution spots, namely Haven of Hope Bradbury King Lam Community Health Development Centre, Haven of Hope District Elderly Community Service in Kin Ming Estate, Sheung Tak Estate and Hau Tak Estate, Haven of Hope Tsui Lam Day Care Centre for the Elderly and Haven of Hope Lok Wah Day Care Centre for the Elderly. Volunteers are recruited to set up the place for distribution and help to distribute the food packs to the elderly. While giving out the fresh food packs, they will also socialize with them and remind them the importance of eating the foods fresh. At times, there are elders who are sick and fail to come to get the food pack. Volunteers and our staff will phone them to see if any assistance is needed. If the elderly is too frail to go to the service centre, the volunteers will visit the elderly at home.
Since the launch of the charity programme in 2011, Over 230,000 food packs have been distributed to elderly in need. In order to help the elderly in need continuously, we hope to get your support. The estimated budget to offer approximately 53,000 food packs in 2017/18 is HKD1,500,000. Now, you can become a supporter of "Food Pack with Love" by donating $ 200 to the programme. You can also become a "Food Pack with love" volunteer to help in distributing the food packs, directly sent love to the hands of the elderly.
---
Every donations can make a difference to elderly in need. Please share your love with them. Donate now!
---
"Food Pack with Love" Sharing of service users
"Life wasn't easy. I used to squeeze every dollar until it hurts. I had to make sure that I didn't spend too much on food as things are so expensive. Now with the "Food pack with love" Charity Programme, I've got the chance to enjoy nutritious fresh food without having to go to the wet market every day to fight with others for cheap foods. The best thing is my financial stress is very much relieved. I am really happy!" Auntie Icy, 80+, gets her ration of fresh produce which amount is sufficient to prepare three meals.
She is living on welfare and life is hard for her. With the Charity Programme, she could have a little bit of extra money to spend on activities like having some dim-sum at restaurant or attending a class in the elderly centre that she is interested. Besides, Auntie Icy has been suffering from chronic wrist pain. Grocery shopping is tough for her, especially in rainy days. Now, she can get the food pack easily in the HOHCS's service centre nearby. A small step has made a big difference to the quality of her life.

---
"Food Pack with Love" photo sharing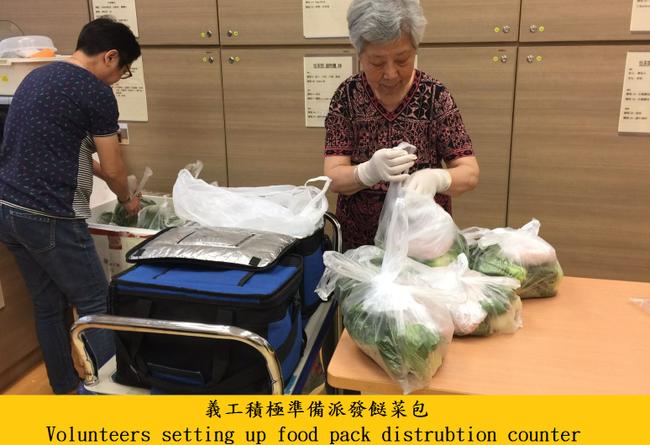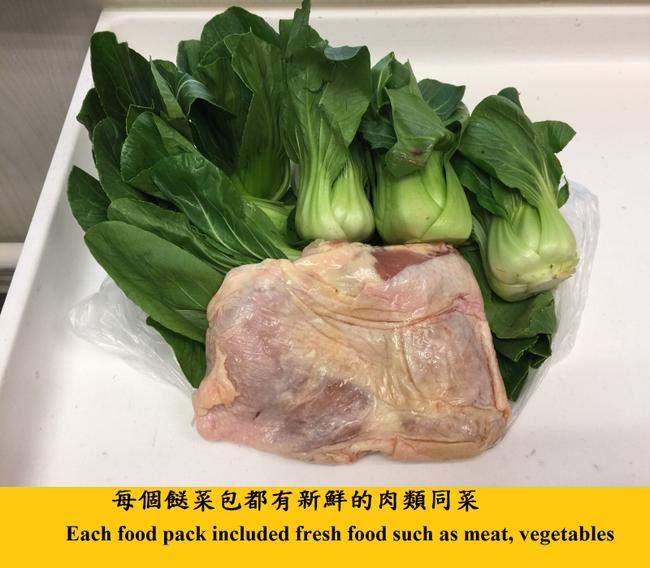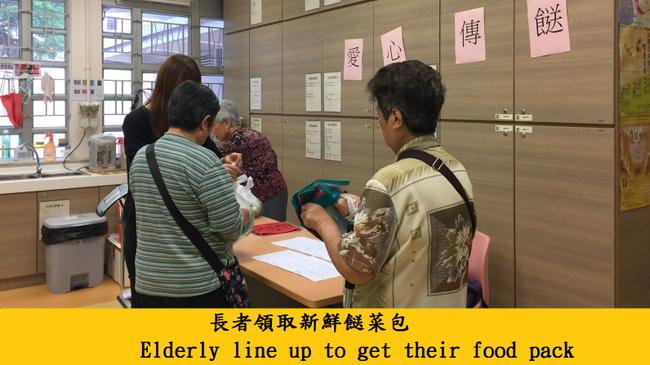 ---
Every donations can make a difference to elderly in need. Please share your love with them. Donate now!
---
Media coverage about the programme
東方日報 A10 2013-02-14

蘋果日報 A12 2013-02-14

爽報 V12 2013-02-14

蘋果日報 A20 2014-07-24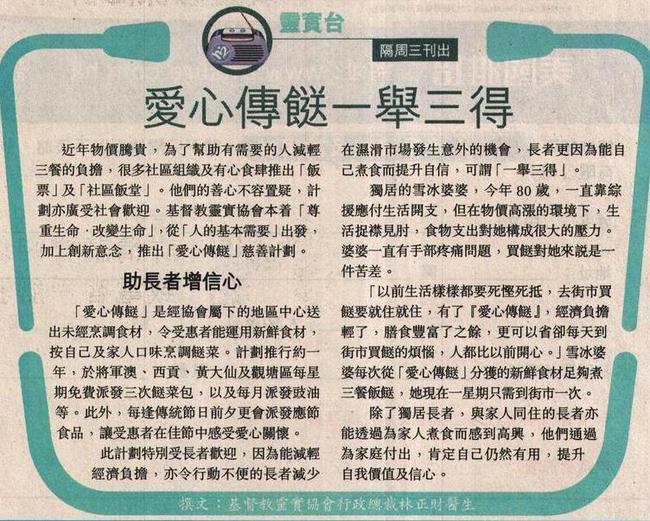 Contribute any amount
Thank you for your donations.
0 Donors