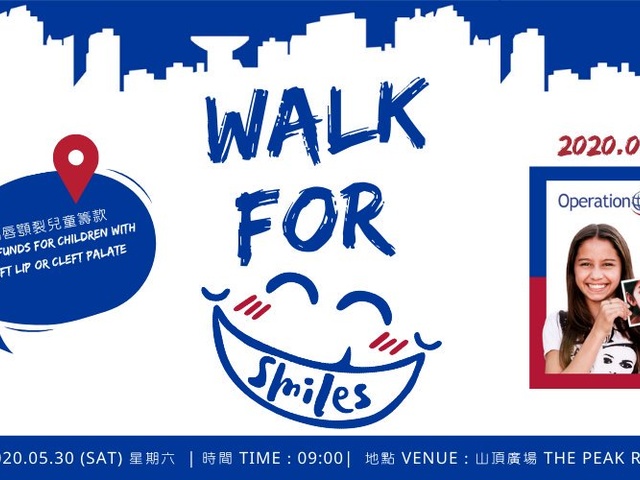 22
days to go
funding ends: 31 December 2021
I target to raise HK$6,800 for 2020 WALK FOR SMILES.
While we are living a contented life without much worries, a children is born with a cleft lip or cleft palate every 3 minutes in various parts of the world. Suffering from social isolation as well as difficulty with speech, the pain that they have to endure is unimaginable.
Do you want to restore their smiles? Do you want to change their lives? Do you want them to rewrite their own destiny?
WALK FOR SMILES is a charity walkathon to raise funds for Operation Smile, which is a non-profit medical service organization that aims at providing cleft lip and palate repair surgeries to children worldwide. Through this walkathon, it is hoped that funds for covering 100 life-changing surgeries to young patients can be raised.
Indeed, $6800 is already sufficient for us to perform a life-altering cleft repairing surgery. A little step done by us can bring along far-reaching outcomes for the children. All the raised fund will 100% go to the surgery expense. With the vision to safeguard a healthy future for the children through safe surgery, we sincerely hope that you can join us and work hand-in-hand together so as to provide a promising future for them.