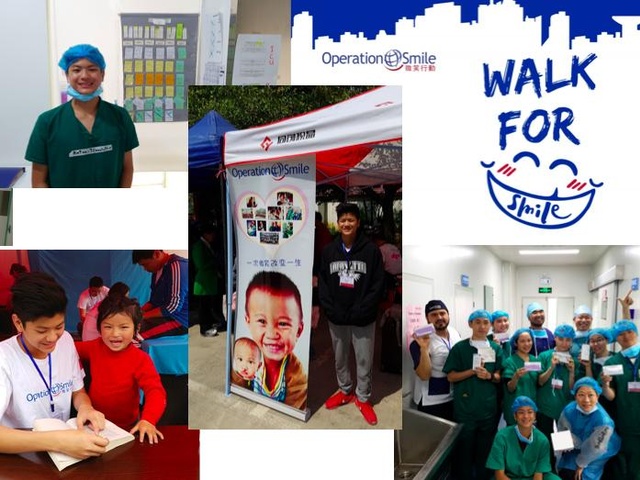 74
days to go
funding ends: 31 December 2021
About Anton Chiu's Fundraiser
I target to raise HK$34,000 for 2020 WALK FOR SMILES.
Every 3 minutes, a child is born with a cleft lip or palate. Besides being ostracized by their community, children also experience feeding problems, poor dental development, speech and language difficulties.
I am participating in WALK FOR SMILES charity walkathon on May 30, to fundraise for Operation Smile, a medical charity that has been providing free life-changing surgeries for children the past 30+ years. One surgery costs HK6,800 and I am hoping to raise enough funds for 3-5 children! To date, the walkathon on May 30th is scheduled to go ahead, whether in person or online!
Though our world might be affected by Covid19, the work Operation Smile does never changes. But because of Covid19, I have rallied for one of my sponsors to pledge $20 for every $100 I raise, to go towards helping those whose lives have been affected by the virus.
I shall send every single one of my sponsors updates and photos of the work I do with Operation Smile, as I remain a dedicated Student Ambassador of this meaningful charity. Having been involved with 2 medical missions to China, I have witnessed how these operations dramatically improve these children's lives!
I hope you will support my cause!
Good News! Due to the overwhelming response of Walk for Smiles, we decided to extend the event period till 31 Aug 2020. Thank you for your enthusiastic support!
WALK FOR SMILES is the first charity walkathon to be held to raise funds for Operation Smile. With generous supporters like you, we have been able to serve more than 308,000 children who are born with cleft conditions from underprivileged families around the globe for 38 years.
Through this walkathon, we are aiming to raise funds for covering 100 life-changing surgeries to patients with our free and high quality operations. You are welcome to join as Individual, Team or Corporate.
【Event Details】
Virtual Walk
Participants could design and complete the route within the designated period, to avoid the crowd during the outbreak of COVID-19.
Date: 11 July to 31 August 2020
RDistance: [Walking Group] 3km [Challenge Group] 7km
Enroll now: https://forms.gle/ckNSQGdHCFNix6127s
How to join?
1. Sign up for "Walk for Smiles": https://forms.gle/tqEagyYHg9sQbD6g9
2. Setup a distance calculator on mobile phone app
3. Complete your walk between 11/7 and 31/8 at home or other safe places.
4. Take a photo including the participant, screenshot of the counted distance
5. Send the photos and screenshots to Operation Smile email [email protected]
6. Upload the photos to your Instagram or Facebook with the hashtag #WalkForSmiles. Like our social media platforms.
Get your "Smile Walker's Pack":
1. SF Express (Freight collect); OR
2. Take at the Operation Smile offi¬ce during office hours (Monday to Friday, 10AM – 6PM). Address: 10/F, 9 Queen's Road Central, Hong Kong. (Please make appointment)
Inquiry:
Ms. Tsang: +852 2500 8117 [email protected]
Mr. Chan: +852 2500 8236 [email protected]
All participants would receive 1 set of "Smile Walker's Pack", including:
1. T-shirt x 1
2. Visor Hat x 1
3. Waterproof Bag(10L) x 1
4. Towel x 1
5. Smile Handheld Fan x 1
6. Medal x 1
Facebook Event Page:
https://www.facebook.com/events/516385709073315/